We have our own choices of wine, and unless we have already tried a certain brand and variety, we like to experiment with wines from other countries or regions. We usually base our judgment on what we read on the label. We see the origin of the wine and the category of the wine – these are usual information required by government agencies. With Greek wines, however, analyzing the label can pose a bit of a challenge so most people think what they can't understand or can't pronounce would not taste as good.
On the contrary. There are so many different grape varieties in Greece so it may sound unfamiliar, but these grapes have been in cultivation and established since ancient times. Under the Roman Empire, Greek wine was coveted in Italy. During the medieval period, Greek wines were exported expensively through northern Europe. This article will help explain to you why – despite the unfamiliarity – Greek wines are one of the best in the world, and you just have to try it to know for sure. Every Greek meal is paired with a wine, and meal time is luxuriously enjoyed, never harried. Think Greek wedding with all the good food, good wine and the merriment and companionship that go with it.
GREEK WINE CATEGORIES AND APPELLATIONS
Greece, being part of the European Union, follow the categories:
VQPRD is the acronym for the French words for "Quality Wines Produced in a Determined Region.
Table wines.
Under the category of Table Wines, there is a superior distinction called "Regional Wines".
In Greece, under the category of VQPRD "Quality Wines Produced in a Determined Region" are two categories:
Wines with Appellation of Superior Quality.
Wines with Appellation of Controlled Origin. This category is used only for dessert wines.
The Appellation of Controlled Origin delineate the areas on the origins of the wine. It includes information on where the grapes are cultivated, method of cultivation, the variety of the grape, the maximum production yield per acre, the alcohol percentage, the vinification method the wine's sensory characteristics.
In Greece, there are 28 Appellations. Of this number, 20 are Wines with Appellation of Superior Quality specifically for dry wines, and the remaining 8 are dessert wines that fall under Wines with Appellation of Controlled Origin.
GREEK WINE FAVORITES
In the 1930's, better wine laws were imposed. Since that time on, the Greek wine industry has made various improvements, particularly in modernizing their production methods. To this day, Greek wines remain multi-awarded in international competitions.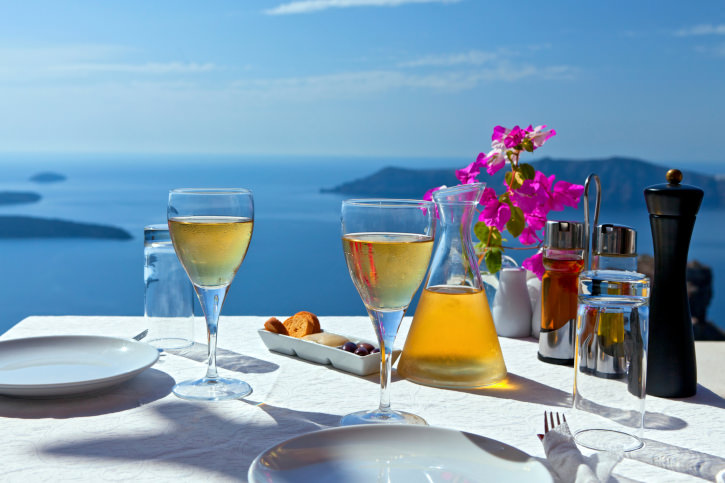 Since we cannot name all different varieties of wine, we are going to narrow down the list to only the best ones, which we recommend you try:
It is lush and velvety, with black-cherry flavors.
It is citrusy white wines that are bone-dry.
This is a white variety that smell like nectarines.
This white wine smells like jasmine and is melony.
It has blossom and tangerine scents.
It uses pink-skinned grape varieties that produces elegant and light, crisp whites and roses.
A red wine with firm tannins, vibrant fruit and smells like flowers and spices.
We have further narrowed down the choices of Greek wine to try depending on when and how you want to drink it:
As an aperitif, served before or after a meal:
Santorinian Vinsánto, which is fresh, sweet and luscious, a blend of the varieties of Assýrtiko and Aidáni. Try the ones aged for at least three years, although some bottles of this brand are available aged at more than 100 years. It is a great partner to chocolates when having dessert because of its caramelly and toffee-like taste.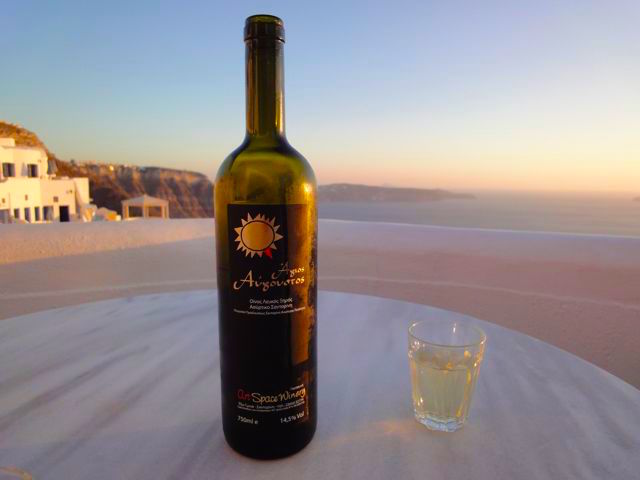 If you are drinking wine with your main course, here are varieties to try:
Ayioryítikoor Mávro Neméas, a favorite of the mythical king Agamemnon. It is deeply red, rich in aroma and tastes velvety. It goes best with meat and sauces.
Ksinómavro. It is northern Greece's finest red.Like the fabled character of redheads, this variety is known as the diva in the Greek vineyards and winery. It is demanding, difficult to deal with and demanding. But once tamed, it is stunning in character and has extraordinary complexity in its combination of intense extract and its finesse.
TIPS ON PAIRING WINE WITH FOOD
The very heart of having your wine is the sheer enjoyment of its flavors, which are best accentuated when paired with the correct food, thus the completion of a beautiful meal. These are basic tips and not hard, fast rules. Drink and eat as you enjoy, to your preference and not by our dictations.
Select flavors that parallel one another. Food with strong flavors go well with flavorful wine. If it's a mild dish, choose a subtle-flavored wine.
Beef dishes that are usually rich are paired with flavorful red wines like pinot noir or merlot.
Creamy pasta go well with chardonnay or sauvignon blanc.
Light salads are to be enjoyed with moscatos or lighter red wines. Salads with balsamic and oil-based dressings go well with blush wines like zinfandel or reisling.
Fish dishes, like salmon, are best with chardonnay and pinot grigio.
STORING WINE
When you are able to store wine correctly, you get the best out of them. You also prolong their life. Here are tips on how to store wines in your home:
Regulate the temperature. The general rule is keep it cool, but not too cool. The ideal temperature is between 45 – 65 degrees Fahrenheit. If wine gets hot, it is 'cooked' and the aroma and flavor become flat. You can store your wine in the refrigerator, but only if you will consume it in a couple of months. If you let it stay there too long, the cork will dry out and air will enter your bottle and damage the wine. Don't freeze wine as it will push out the cork and inadvertently open your bottle. The bottom line is to be constant in your temperature.
Keep the storage room dark. Sunlight can age wine prematurely. Light bulbs wont damage the wine, but may fade the labels. Go for incandescent bulbs instead for minimal ultraviolet light.
It is good to use horizontal racking. This will keep the wine inside the bottle touching the cork keeping it from drying out.
Best place to store is a basement that can double as a cellar. It is dark, away from hot temperatures like in the kitchen, should not be too damp and has minimal visitors, with no danger of wine racks toppling down.
Great Greek wine! Cheers!